With unmatched innovation and efficiency, Huebsch® provides competitive quality products designed to bring in top revenue to your laundromat. Our access to their full line of durable commercial, tumble dryers and single-load units are equipped to keep your establishment on the forefront of laundry equipment innovations keeping you conditioned for success in a such a specialized market.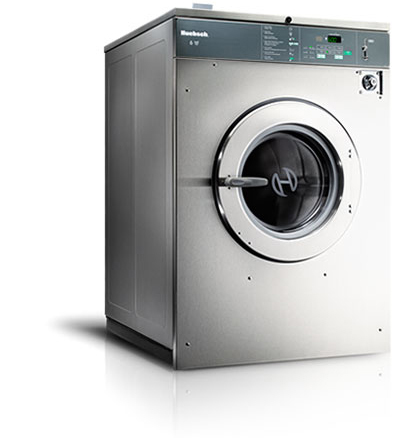 Huebsch VENDED GALAXY TM – Commercial Washer Extractors with eBOOST TM
Available in 20, 30, 40, 60, 80 & 100 lb capacities Improved technology spins up to 200 G-Force, removing more water for shorter drying times and lower energy bills. In fact, it takes 33 percent less electrical energy to run and 11 percent less water than two-speed models. Proprietary inverter drive technology provides smooth, reliable power for better wash and extraction performance. Improved cylinder/sump system design optimizes water use for maximum cleaning power and customer satisfaction while reducing non-wash water below the cylinder. Patented Water Guardian™ technology detects leaks for both the drain and fill valve, eliminating wasted water and resources. Computer-optimized frames are stronger, quieter and vibrate less. Seals and bearings are designed with optimal corrosion resistance, seven times the water protection and premium heat and wear protection. Includes an industry-leading, transferable 10-year warranty. Slate control panel comes standard on washer extractors, tumble dryers and stacked tumble dryers with Galaxy 600 controls. Cityscape and Citron are available upgrades.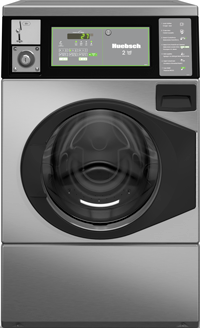 Huebsch Vended FRONT LOAD Washers
Leading-edge. That's what Huebsch® stands for. We continuously develop and manufacture laundry equipment that is ahead of the game — like new front load washers with Galaxy™ 600 controls, featuring advanced cycle modifiers to maximize your revenue. These machines offer a 20% larger capacity, and they're more powerful than ever. Equipped with innovation that delivers ultimate efficiency, they help lower your utility bills and make more money for you over the lifetime of your equipment. And with more options, including 30 programmable water levels and 24 customizable cycle selections, this game-changing equipment is designed to provide a laundry experience that is second to none. Cutting-Edge Sensing System Incredible 440 G-Force 20% Larger 10-Degree Tilted Control Panel Super-Strong Stainless Steel Tub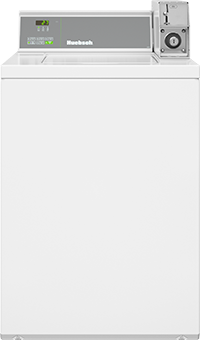 Huebsch Vended TOP LOAD Washers
Huebsch® top load vended washers combine low water usage with a higher spin speed to offer owners maximum energy efficiency and performance. State-of-the-Art Electronic Controls Large Wash Tub Capacity Automatic Balance System (ABS) Superior Wash System Industry Best 710 RPM Spin Speed Quality Internal Components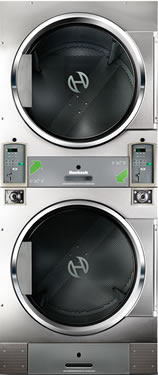 Huebsch Vended Commercial Tumble Dryers
Huebsch® commercial vended tumble dryers are designed to adhere to the highest construction standards and will satisfy customer demand for fast drying. Available in 25, 30, stacked 30, 35, stacked 45, 50, 55 and 75 lb capacities, Huebsch vended tumble dryers offer efficient, dependable drying every time. 25 – 55 lb Solid State Electronic Controls Axial Airflow Design Dual Motor Design Stainless Steel Door Multiple Point Suspension Heavy-Duty, Multi-Rib Poly-V Belt Large Lint Compartments Patented Oblong Cylinder Perforations 25 – 55 lb Specs and Brochure 50 – 75 lb Solid State Electronic Controls Super Large Reversible Door Stainless Steel Door Self Cleaning Lint Screen All Belt Drive System Reversing Option Available 50 & 75 lb Specs and Brochure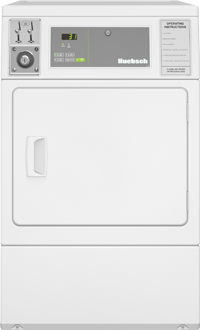 Huebsch Vended Single Laundromat Dryers
Huebsch® vended dryers are designed for top quality and top performance. All Huebsch vended dryers feature a durable porcelain enamel top to maintain a lustrous appearance in even the toughest environments. State-of-the-Art Electronic Controls 7.0 cu. ft. Capacity Cylinder Secured Upfront Lint Filter Industry's Largest Door Opening Reversible Door (Solid Door Only) Two-Piece Front Panel
Huebsch® Command is a wireless, cloud-based system designed to work with Galaxy 600 Controls to deliver you a smarter, more efficient way to run your business. With the ability to access your locations and machine data from anywhere there's an internet connection you'll have an unstoppable revenue-generating power right at your fingertips. Huebsch Command™ puts unprecedented power into your hands so you can run a smarter business—from anywhere. The Owner Dashboard is the heart of the Huebsch Command platform. The Owner Dashboard is home to all of your business management tools and can be easily expanded as your business grows.
Access real time revenue, change prices, control machines, accept mobile payments and much more. However you want to run your vended laundry business, Huebsch Command can help you get there.